A Sales Model That Will Generate Profit
In this post we will explain how to find and buy wholesale products and sell them on Amazon with the assistance of your VA, who will essentially do all the work for you!

Finding potential suppliers is the first and one of the most challenging parts of wholesale sourcing. Finding and securing a relationship with a manufacturer, brand owner or distributor usually takes the majority of your time. We'll show you how to rely on your VA to do all that and more for your business.

If you're interested in the potential benefits that an Amazon wholesale business can offer you, but you have limited funds and limited time, this post will help you figure out which wholesale products to sell on Amazon and how to find wholesale suppliers, all with the help of a VA trained assistant.

Let's get started….

How Does Amazon Wholesale work?
➔ Selling wholesale on Amazon involves buying bulk products directly from the manufacturer or supplier of the product at a discount, then selling them as a reseller on Amazon for retail prices.
➔ This model allows you to sell products from established brands with existing demand.
Before you can place a wholesale order for most brands, your VA will open what is known as a "wholesale account" and be responsible to negotiate with wholesale suppliers for lower prices than you may get otherwise.

An example of a wholesale order would be buying a bulk lot of mixers directly from KitchenAid (or one of their distributors) for a discount and then listing those mixers on Amazon for the regular retail price (or whatever a reasonable price is, based on what other sellers are asking).
After purchasing the products from the manufacturer or distributor, the products can then be sold via your online retail distribution channels.
In this post, we'll be focusing on selling these items on Amazon.

The basic steps your VA will be taking to set up an Amazon Wholesale
Account. She will:
Set up a seller account
Find a high-demand product to sell
Source the product from a manufacturer
Do all the research in order to create a product listing or work together with a professional Copywriter.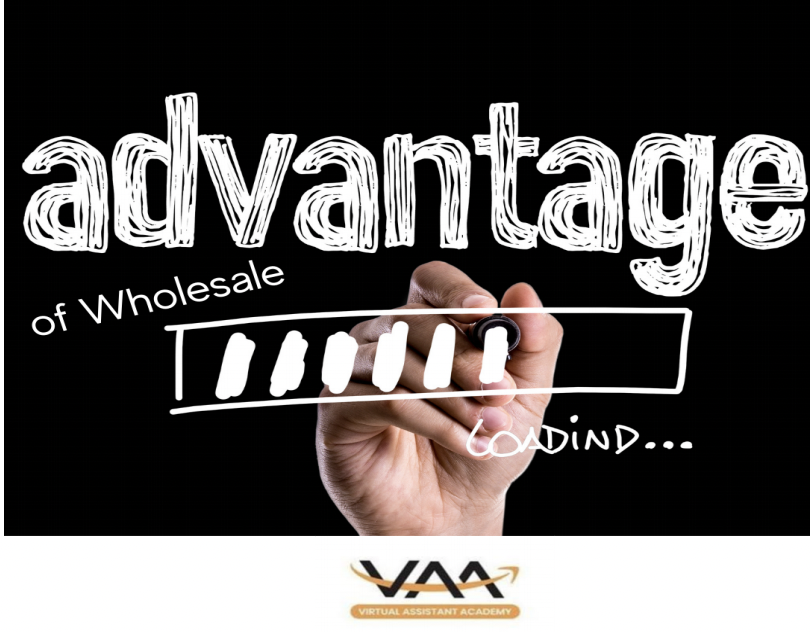 THE FIVE MAJOR ADVANTAGES TO WHOLESALE: