Make international growth a key pillar of your business strategy
You have a successful e-commerce business, and your sales are growing, so what next? AVASK are experts in cross-border selling and international tax compliance. We have helped over 10,000 e-commerce sellers to successfully expand their businesses. If you haven't entered the European Marketplace, you could be missing out on access to millions of active online shoppers and the opportunity to accelerate your sales. Continue reading to find out how and why you should start your Global expansion journey today!
Why Europe?
Europe has a rapidly growing e-commerce market, with over +20 online marketplaces for you to start selling on and a combined population of over 700 million people.
The European market has grown to $828 billion. The UK is the single largest of the European markets generating $199 billion in revenue followed closely by Germany at $141 billion. Selling in Europe post-Brexit has been simplified thanks to the many different programmes now available from Amazon. However, if you are looking to expand into the EU you will need to ensure that you remain compliant with VAT regulations as well as obtain the correct documentation to import your goods. Working with an e-commerce accountant, such as AVASK will enable you to focus on the core aspects of your business whilst we take care of your taxes and work with the local authorities on your behalf.
Take advantage of the well-established online marketplace that Europe has to offer and benefit from a smooth expansion, tailored specifically to your business.
Marketplaces sizes graphic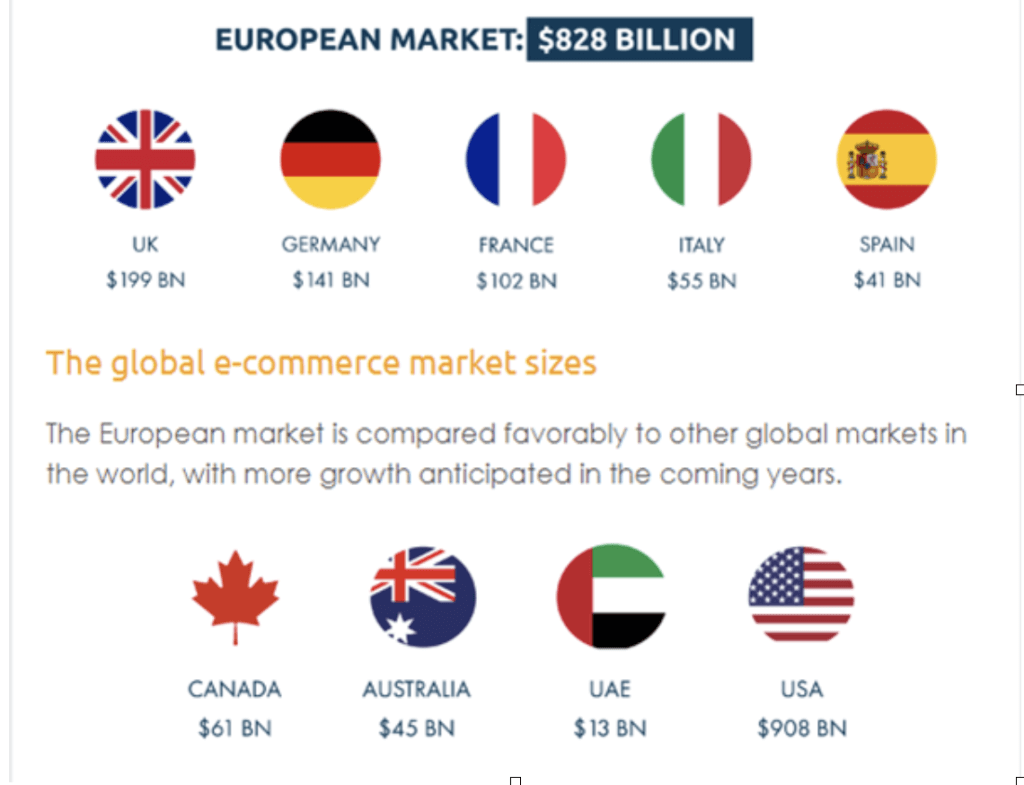 How should I start?
Take your top listings global! If you are selling on Amazon, you will be able to sell your products to a large European customer base, from a single unified seller account. If you are wondering where to start why not consider taking advantage of the $199 billion UK e-commerce marketplace
A good place to start would be to take the knowledge you have acquired by selling on Amazon US and apply that experience to the European marketplace. If your listings are already set up in English you will easily be able to start selling on Amazon in the UK, however, it is important to note that there are differences between British and American English, find out more about how to optimise your listings by reading more on our website.
However, it is important to think globally. While the UK is a great place to start our team of expansion strategists will help you identify which marketplaces your e-commerce store will succeed in. For example Germany, the second largest e-commerce market in Europe, with a rapidly growing customer base and the ability to easily ship to other European countries thanks to its nine bordering EU countries.
Shipping with AVASK. We have a department dedicated to providing you with a seamless cross-bordering experience. Speak to an e-commerce expert from AVASK to find out how we can help you start importing into the UK & EU and receive a tailor-made plan for your business.
What will I need?
To avoid any penalties from the local tax authorities it is highly important that you are registered correctly when selling within the EU. The mistake many sellers make when expanding into Europe is not registering for VAT. Amazon will shut down your account if you are not a remaining complaint. With AVASK you will have a dedicated Indirect Tax Consultant to take care of your registration and filings, leaving you to focus on the core aspects of developing your business.
Compliance Checklist:
If you would like to find out more about how we can support you to grow, get in touch today
We are pleased to be able to offer you FREE one-on-one Global Expansion Consultation with an AVASK expert. You will be entitled to a no obligation, 30-minute call where you can let us know your business aspirations and goals. Your dedicated specialist will reveal compliance tips and tricks, as well as handy advice on how to ensure you are ready to expand.
Book a call today and claim your free 30-minute consultation
If you have any questions about the requirements to sell in the US, please contact AVASK today. You can also telephone us on:
+44 (0)23 8060 0120 | +1 (213) 256 0537 or email: enquiries@avaskgroup.com.